Do you imagine a winery in the middle of a volcanic scene? The answer is in Lanzarote, where this volcanic vineyard wonderland is located. Exploring La Geria is an experience you can't miss. This is a unique landscape, with a particular form of cultivation that you will only see on this island. Get ready to experience it with us!
Why should you go exploring La Geria?
The Canary Islands are known for their wine production, and some of the best are made in Lanzarote. The area in which the wineries are on the island is La Geria. This valley is located at the south-centre of Lanzarote.
Here there are near 20 wineries that produce dry, semi-dry, sweet and semi-sweet wines; mostly white, but some of them also produce red and rosé wines.
Lanzarote has developed its own traditional grape-growing methods to take advantage of the characteristics of the volcanic soil. The volcanic lava that covers the ground retains moisture, which favours the growth of vines.
So, in order for the plant to grow, a funnel-shaped hole is made three feet deep. Around this stands a semicircular stone wall to protect the vine from the trade winds.
When you visit La Geria, you will find a moon-like landscape that you won't see anywhere else. Also, there, it is possible to visit the wineries and try some of their wines.
Even if you are not a wine lover, it is worth going on a tour around La Geria. This landscape is unique, and you will learn how the locals have adapted to the changes produced by volcanic eruptions.
You can visit one or several wineries the same day. And some tours can be family-friendly.
On the other hand, if you are interested in sports and outdoor activities, there are hiking routes that go across La Geria.
Where is La Geria located and how to get there?
La Geria wine route is in central Lanzarote, and it is around LZ-30, from Uga to Mogaza. The wineries are at both sides of the road, and it can be visited from North to South and vice versa.
It is easy to find because at the north of La Geria is the Timanfaya National Park.
It is important to know that there is no public transportation to La Geria. So you'll have to book a transfer in Lanzarote to take you there, rent a car and drive by yourself or join a tour.
If you are in Puerto del Carmen, it would take just 15 minutes to get to La Geria.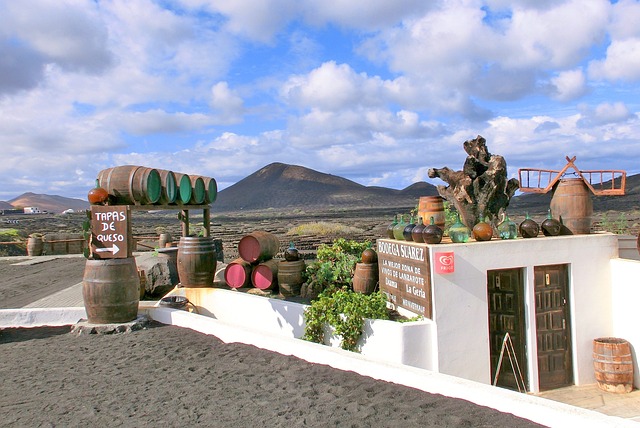 What to do at La Geria?
The main attractions at La Geria are the landscape and the wineries. So this should be a must during your trip to Lanzarote.
You can take a tour to one or more wineries, they are close to each other. Once there, it is possible to try their wines and, if you like them, you can buy some to take home with you. Also, you can eat at the wineries, so take your time to experience this part of the island.
If you visit Lanzarote between July and September, you will be able to see the grape harvest. This is another peculiarity of the island, since it is the first in all of Europe.
Every year, in June, music arrives in La Geria with the Liquid Sound Festival. This is another scenery to taste the wine, while enjoying live music. During the festival, there are buses around the island that can take you there.
While in La Geria it is possible to visit the first winery established in Lanzarote. This is Bodega El Grifo, that has been working since 1775. Inside El Grifo there is also a wine museum.
Another famous winery is Bodega La Geria, where you can have a guided tour. Rubicón, Los Bermejos and Stratvs are some other wineries you can visit. This last one is the youngest winery in Lanzarote, opened in 2008.
If you are looking for outdoor activities, there are several routes around Lanzarote, and they include La Geria. You can take the routes in the town of Uga. This landscape will make you feel like you are trekking at the moon.
In La Geria there is a grotto called Cueva de Los Naturalistas. This Natural Monument is close to Masdache and the underground gallery is 1,600 meters long. Inside the grotto, it is possible to see solidified lava drops.
When to go to La Geria?
The weather is good in Lanzarote all year long, so any time is great to go there and enjoy the island. If you are planning to go to La Geria and taste some wines, it is possible to do it all year long.
If you want to enjoy the music festival, then you must go in June. Liquid sounds presents national and international bands, but the main atractions are the landscape and the wine that you can try during your visit.
Attractions near La Geria
You can combine the visit to La Geria with other attractions nearby. Some of them are Timanfaya National Park, Cueva de los Verdes, the Cactus Garden and Jose Saramago House Museum.
A visit to one of the wineries could take around two hours. After this you could head to another attraction around La Geria or, if you prefer, you can dedicate half a day to tour the vineyards.
What to know before visiting La Geria?
Here are some facts you have to know before going to La Geria:
As you explore the vineyards and wineries, it's advisable to dress comfortably and wear appropriate footwear. The volcanic terrain can be uneven and rough in certain areas.
Additionally, don't forget to bring sun protection, such as a hat, sunscreen, and sunglasses, as the sun can be intense in Lanzarote.
Make sure you don't leave any kind of waste out of place. Appreciate the harmony between the natural surroundings and human intervention, as La Geria strives to maintain its ecological balance.
When indulging in wine tastings, keep in mind that Malvasía wines can range from dry to sweet. Engage with the knowledgeable staff at the wineries to discover your preferred style.
Exploring La Geria is a "must do" when you visit Lanzarote. Have you ever been there? Share with us what you like about this place.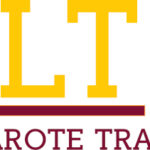 Our company seeks to deliver the best service you can find on the island today. We seek to optimise our clients' time and resources, which is why we respect the schedules and offer the best prices for different transfers.