Here we will tell you some airport travel tips, so that your next plane trip turns out in the best way. If you go to Lanzarote, you will get to know a unique destination, but to do it in the best way, you will have to prepare well. This way, you will not have problems before, during or after the flight.
Check in early
Be sure to check in for your flight 24 hours in advance, so you won't have to stand in line when you arrive at the airport. Also, on some airlines, depending on the fare, it may be the opportunity to select a good seat.
Another incentive to check in early is that some budget airlines charge extra if you wait to get to the airport to do so.
An advice in this regard is if your airline has an app, download it, so you can review any travel information and even check-in. You could receive notifications about any changes, among other details.
Choose well the clothes you will wear to travel
Choose well the clothes you want to wear on the trip day, consider wearing several layers of clothing. Because the temperature can vary between the airport, the plane, the place where you leave and the destination.
This way, you can take off or put on layers of clothing depending on the temperature, and you will be more comfortable.
On the other hand, you will avoid paying for the blankets on the plane, and you will take a few grams out of the suitcase and prevent it from being overweight.
If you are only allowed to carry one carry-on bag, it is important to comply with the weight and size. If this is a problem, wear the heaviest clothing during the flight, such as boots, jeans and jackets.
Despite the above, always prefer comfort, do not wear clothes that you do not feel comfortable with. You'll be sitting on a plane for a few hours, and you don't want to be uncomfortable.
Remember to wear socks, in almost all airports, you have to take off your shoes to go through security and the metal detector. To avoid walking barefoot on the dirty floor, remember your socks. In addition, they will help you keep your feet at a good temperature during the flight.
Also keep in mind these tips while travelling with kids.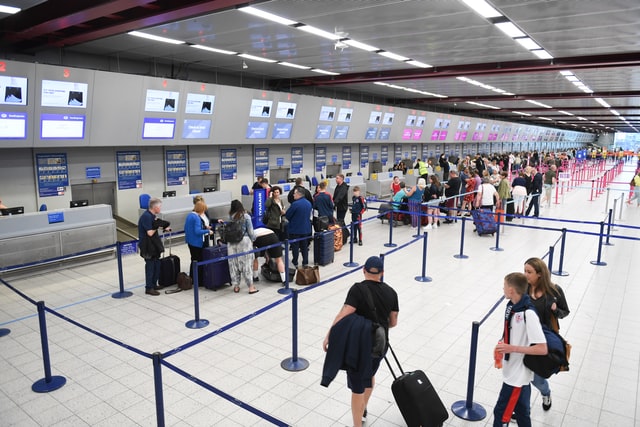 Pack your bags well
Packing can become an art, with time you will learn to do it better. Here we will give you some tips to do it in the best way:
Prevent liquids from spilling or even exploding in the suitcase by preferring not to carry them. Today you will find options for shampoo, conditioner and bar soaps, there is even toothpaste, body cream, among others. In addition, they will take up less space in the suitcase.
Put a coloured ribbon or bow on your luggage. This way, you could distinguish it if another person has a similar suitcase. You'll see it faster on the conveyor belt.
Pack your clothes well. It is recommended to roll the pieces of softer fabric and fold the pieces of thicker fabric. If you are staying in Lanzarote, you will probably travel light.
Bring snacks and a bottle of water
For the trip, you must keep in mind that there are many limitations on the amount of liquid you can carry on a plane. Many end up buying water at the airport, but you can avoid the expense and reduce the use of plastic by carrying a reusable bottle.
This empty bottle will have no problem passing through security, and at the airport you will find different sources of water to fill it.
Also, remember that it is very important to stay hydrated during the trip, because the altitude tends to dehydrate you.
Also, take snacks with you to avoid spending money on airport food, which is usually quite expensive. Take your favourite foods in well-sealed packages, and there will be no problems going through the controls.
Manage your electronics in the airport
Although in many airports you will find a place to charge your mobile, tablet or computer, it may be that the plugs do not have a converter that fits your cable or simply that these spaces are full.
So if possible, take your charger or portable battery.
If you carry a laptop in your backpack, you should know that these types of electronic objects have to be removed when going through security. To avoid wasting time looking for your computer and charger, leave them in a specific compartment of your backpack.
There are even those who opt for a small bag for the laptop and the charger, so it will be easier to take it in and out of the large backpack.
Know the airport of your destination
Before travelling, look online for information about the airport where you will arrive. It is important to have some knowledge, such as if the terminal opens during the night, where the door is if you will make a connection.
Also see where the available stores are.
By doing the above, you will be prepared for any eventuality that may happen in a connection or on arrival.
Some tips while you are at the airport
Another airport travel tips for your time waiting on the plane or in it.
Sit near the exit door, once you go to the waiting rooms, it is best to be close to where they will call to board.
Take a photo of your luggage when you hand it over to the airline. If it gets lost, you have more information about it.
Use hand sanitizer. At the airport and on the plane, you will be in contact with surfaces that many people touch, so it is best to clean your hands with some frequency.
If you have to sleep at the airport, look for a good place to rest. It may be that you have a long connection or the flight has been delayed due to bad weather. In most airports, you will find relatively comfortable places to rest.
Moisturize your skin, since flights tend to dehydrate it. Take a very small container with some cream, it can be the contact lens container.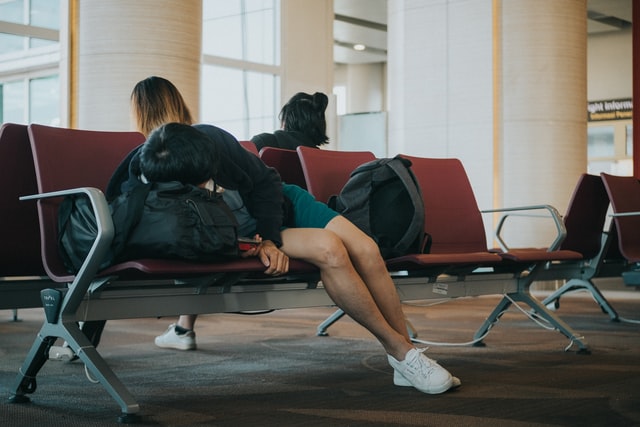 Make sure you know who will transfer you to your accommodation
Book Lanzarote Private Transfers in advance, so you can be sure that a trustworthy company will be waiting for you at the airport and drive you to your accommodation.
Make sure you know what the vehicle that will take you will be like, if they will use any signs, or how you will know that they are waiting for you.
These airport travel tips for your next trip will help you to live the experience to the fullest and avoid any troubles.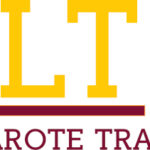 Our company seeks to deliver the best service you can find on the island today. We seek to optimise our clients' time and resources, which is why we respect the schedules and offer the best prices for different transfers.