Start your trip at Lanzarote Airport (ACE) for a beach holiday or to explore the island's natural beauty. This guide will help you travel easily from Lanzarote airport to Arrecife city center, the capital of Lanzarote. Read on to learn more!
Transfer options at Lanzarote Airport
To have a smooth journey from Lanzarote airport to your destination, it's important to know the transfer options.
The benefits of pre-booking your airport transfer
Pre-booking airport transfers for your Lanzarote holiday has many benefits. It ensures a stress-free start of your trip and sets the right tone for your holiday.
Pre-booking your private Airport Transfer is beneficial because of this:
Convenience: booking your transfers means you do not have to wait for taxis, or even walking around the surroundings that are unfamiliar to you. The driver will wait for you at the meeting point, ready to take you to your destination.
Peace of mind: when booking an airport transfer, you will have the guarantee that a reliable and professional driver will get you to your accommodation.
Tailored to your needs: there are several options for booking transfers, private, shuttle, and shared. So you will find options according to the size of your group, budget, and preferences.
Types of transfers available from Lanzarote Airport
Private transfers: these offers a personalized experience, ideal for those seeking privacy and comfort. This is the most expensive transfer option, the ride will be straight from the airport to your accommodation, non-stop. These are a great options for families, you can ask for a baby or child seat for free, so the kids will be safe during the ride.
Shuttle transfer: provides a cost-effective option as you share these shuttles with other travellers. Have regular departures, so you do not have lengthy waiting times. Perfect for groups who want to save money and do not mind a ride with few stops.
Bus transfers are affordable, shared, eco-friendly, and a great way to connect with other travellers.
Booking process and what to expect
Booking your preferred transfer type on our website is very easy. You need to select your destination, pick-up and drop-off location, the date, hour, and number of travellers, including kids.
Once you have selected your transfer and provided the details, carefully review the booking summary and confirm your reservation. You'll get an email with your booking info, including driver contact and any extra instructions.
When you get to Lanzarote Airport, locate the meeting point mentioned in your confirmation email. Follow the instructions provided to you during the booking process.
To identify the driver, he will be holding a sign with the name of the company or your name. Confirm with him your identity and booking number. Then enjoy the ride to your destination.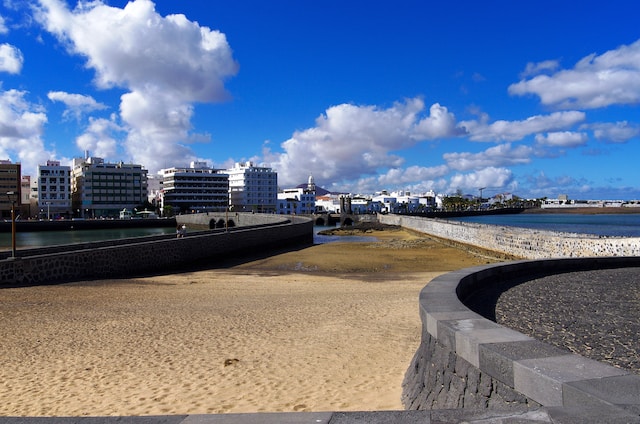 What are the estimated travel times and cost of transfer from Lanzarote Airport to the City Centre?
The estimated travel time from Lanzarote Airport (ACE) to Arrecife, the capital city of Lanzarote, depends on the chosen mode of transportation:
Private Transfer to Arrecife:
Cost: Approximately 25 euros per vehicle. This rate usually applies to a vehicle that can accommodate up to 4 passengers.
Travel Time: The journey by private transfer typically takes about 10 to 15 minutes. This option offers the convenience of a direct route and privacy.
Shuttle Services to Arrecife:
Cost: The price may vary depending on the service provider. Shuttle services are often a cost-effective option, especially for solo travellers or small groups.
Shuttle service takes a bit more time than private transfer, typically about 15 to 20 minutes. This is because of the possibility of multiple stops to drop off other passengers.
Buses: to Arrecife:
Cost: Public buses are generally the most economical option. The fare is lower compared to private transfers or shuttles, making it a budget-friendly choice for travellers.
Travel Time: The bus ride from Lanzarote Airport to the city centre takes about 30 minutes. This length can vary depending on the bus route and traffic conditions.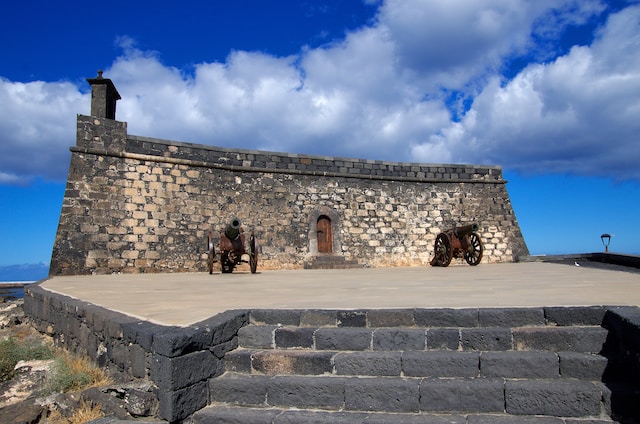 What to do in the city centre of Lanzarote?
Arrecife is the capital of Lanzarote, it is a charming coastal city, with a long history and rich culture. It is a great place to spend a few days and from there get to know the main attractions of the island.
Here are some ideas of what you can do in the centre of Arrecife, Lanzarote:
Visit Castillo de San Gabriel: The castle protected Arrecife from pirates with its old stone walls. This 16th-century building is now a popular place to visit. It has great views of the port, where the blue water meets the busy city. It's a perfect spot for taking memorable photos.
Walk through Charco de San Ginés: this tranquil lagoon with crystal-clear waters is a good place to relax and enjoy the view. You can drink coffee or eat in one of the vibrant cafes and restaurant around this lagoon.
Visit the Lanzarote Archaeological Museum to learn about the history of Lanzarote and its indigenous people, the Guanche. Wander through exhibits showcasing ancient artifacts, from pottery shards to tools.
Walk around Playa del Reducto: go to relax, have a bath and soak up the sun in this beach with golden sand. You can dine at beach restaurants that serve fresh seafood and local food. Instead, you can enjoy a drink at bars while watching the sunset.
Shop at Marina Lanzarote Mall: it has many stores for clothes, souvenirs, and dining options.
Arrecife has many restaurants to choose from. These restaurants serve a variety of cuisines, including Canarian food and dishes from around the world.
These are just a few ideas for what to do in the city centre of Arrecife. With so much to see and do, you're sure to have a great time exploring this charming city.
Conclusions and recommendations
There are different transfer options in Lanzarote, which adapt to different budgets, ways of travelling and preferences. Booking a Lanzarote Airport Transfer Service is the first step to enjoying the island to the fullest.
Once you reach your place to stay in Arrecife, the main city of Lanzarote, you can fully enjoy the island. Explore the mentioned places and more nearby. Visit them for a complete experience.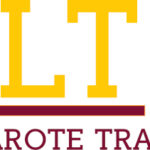 Our company seeks to deliver the best service you can find on the island today. We seek to optimise our clients' time and resources, which is why we respect the schedules and offer the best prices for different transfers.