In Lanzarote Transfer, we will give you some tips for packing your carry-on for air travel. If you follow this guide, you will save money, time, and stress. You probably think packing is easy, and you know everything, but we would like to help you improve this.
A carry-on for everything
Must airlines let you bring a carry-on bag; its size depends on the company and the weight is about 8 to 10 kilograms. You can also bring a personal bag, it can be a laptop bag, a purse, it has to be small.
The low-cost airlines sometimes charge you an extra for the carry-on, and even more for a suitcase.
So, if you are travelling on a budget, probably a carry-on will be the perfect option for you. It will also be easier to move around. And if you are going away just for a few days, you won't need a 23 kg suitcase.
Also, if you are going to Lanzarote, that is a beach destination, you won't need so much clothes. Beach clothes are light and won't take so much space of luggage.
For a carry-on, you can choose between a suitcase and a backpack. You just need to worry about considering the size that says the airline policy. In their website, they should have displayed all the information about this subject.
The backpack is a great option, it is easy to move around, but you will need to put it in your back, you can not roll it. Your items will be less protected than in a suitcase.
On the other hand, the suitcase is better to organise your belongings, because it is preformed, they are usually made of plastic. But, but since they are hard, airlines pay more attention to the correct dimensions.
Contact us if you require Lanzarote airport transfers to Costa Teguise.
Tips for packing your carry-on for air travel
Strategically pack your carry-on bag so that your trip is a good experience. You don't want to forget something important, but you also don't want to bring too many things you won't need.
The best thing you can do when packing is to first make a list of what you want and need to bring.
Some things you should not forget when travelling by plane are:
Passports, money, and debit and credit cards. If you are going abroad, you will need your passport and other ID documents.
Medications and a first-aid kit are essential if you are travelling with kids.
Phone, laptop and other electronics should be in your carry-on.
Clothes: if you carry checked luggage, you will not have to worry about carrying too many clothes in your hand luggage. But at least you'll need to have an extra change of clothes, in case your suitcase goes missing.
You could also include a light jacket, a small sheet and an inflatable pillow. This way you will have a more comfortable trip.
For long trips, do not forget the personal hygiene accessories, but remember the sizes recommended by airlines.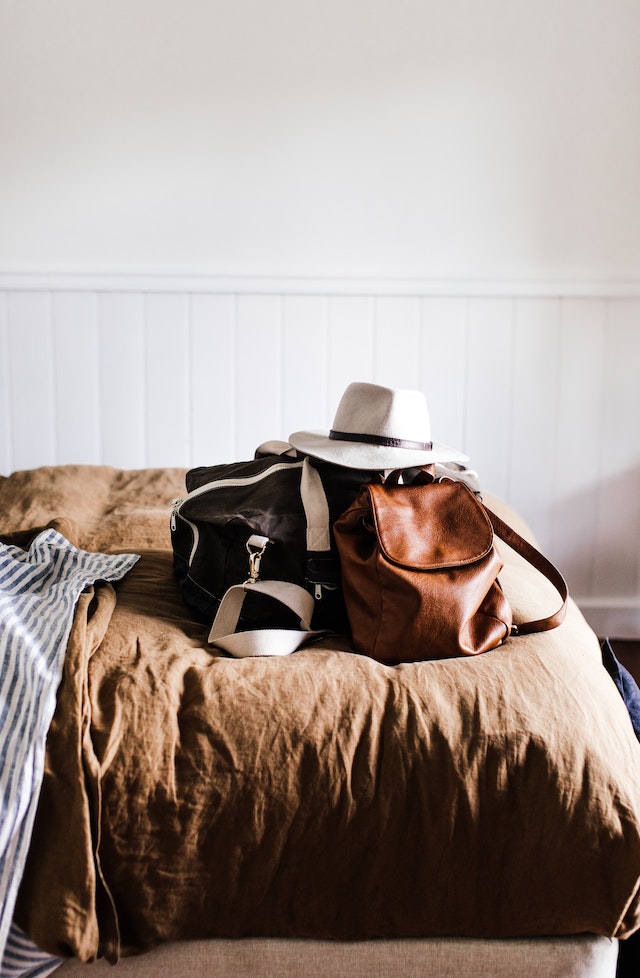 Take advantage of the personal object
The airlines normally allow you to carry, apart from the carry-on bag, one personal item. This must fit under the seat, there you can have your personal valuables, such as electronics and documents.
Choose a purse or a small backpack, which will serve you to use it on a daily basis during the trip.
The carry-on bag has enough space
In a carry-on suitcase, you could store clothes for a week-long trip to the beach. You just have to know how to organise it and take what you really need.
But if you're travelling for more than a week, you'll probably need a checked bag or do some laundry in your destination.
A good idea is to wear light fabrics that can be washed in the sink and dry easily.
It's also important to pack multi-function shoes. Keep in mind that shoes take up space. Therefore, it is a difficult decision which ones to wear, opt for versatile and comfortable ones. And, sandals or special shoes for the beach.
Choose the right clothes you want to wear. To pack light, consider bringing clothing that you can layer. This saves space, and you can keep warm if necessary.
For example, if you go to the beach during the day, there will be a lot of sun, and you will not need too many clothes. But on breezy nights, it might get colder. Bring sweaters to wear over your t-shirt or jackets that don't take up as much space, rather than heavy coats.
Personal hygiene accessories
Toiletries are important for travel, especially if you go to the beach. You will need to wash your hair every day. Take into account the size indicated by the airline, so you will not have difficulties at the airport.
A good option to save space is to bring solid soap and shampoo. Remember to also pack sunscreen.
And, if you have very little space, do not bring toiletries and buy at your destination.
More packing tips
Use compression packing bags. This way you can save a lot of space, up to 80%.
Order in packing bags. This will not reduce the space you use, like the compression ones, but allows you to have a more organised suitcase.
Roll clothes instead of folding them. This is one packing tip that never goes out of style. When you roll the clothes, they take up less space than when folded traditionally.
If your suitcase exceeds the weight indicated by the airline, put on as many clothes as you can. Wear your heaviest flight shoes, thickest jacket, and jeans.
You can also save space by keeping smaller items in your personal bag. Or if you no longer have where to store things, use your pockets for glasses, headphones, chargers.
With these tips for packing your carry-on for air travel, you will pack like a professional for your next trip to Lanzarote. Remember to contact us if you need transfers to and from the airport in Gran Canaria and Lanzarote.